We had an absolute blast in Ocean City. Even though Maryland has a lot of coast line on the Chesapeake Bay, the state has very little ocean beaches. Ocean City is pretty much it and it is awesome. The highlight of Ocean City is the boardwalk. I haven't been to a boardwalk in years. In fact, I don't really remember the last time. I was an itty bitty kid living in England. Now that I think about it, I think Brighton was the last boardwalk and I was a senior in high school.
Given the fact I love boardwalks, arcades, the beach and carnivals, I think you can imagine we were in heaven with our cameras. I filled up my memory card. I apologize if this page took a little while to load. I had a really hard time weaning down the pictures and limiting the amount to post.
The boardwalk is 3 miles long. We started at the southern most point and took our time. Walking in the most comfortable shoes we own, we strolled. We strolled some more. We took a break and then strolled again. In previous posts I have mentioned while traveling, Cindy and I tend to walk until our feet hurt and then drink wine until they don't. It is a routine we love. This time we forgot the wine. So we settled for ice cream breaks, ice tea stops and lemonade. We hunted out shady tables to sit with cold drinks and people watch.
If you are looking for a good business opportunity, open a fish and chip shop on the boardwalk. Perhaps because I had a flashback to English boardwalks my taste buds started craving fish and chips. There isn't one on the entire boardwalk. There is a pizza parlor about every ten steps. There are hundreds of places selling the famous boardwalk buckets of fries. If you want ice cream, no need to go very far. There are funnel cakes, hot dogs, sticky candy stuff and food on sticks. But, no fish and chips.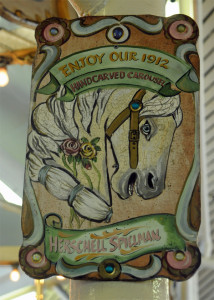 We walked into one of the indoor arcades not realizing how big it was. Inside we found it was full of antique rides for young kids. We stopped to admire one of the most beautiful carousals we'd ever seen. It was very unusual in the fact it had tigers and giraffes instead of the usual horses and unicorns. This prompted Cindy to remember a TV show we had watched a few years ago about a person who restored antique carousals. She remembered them saying how extraordinarily rare it was to find wooden carousals with tigers, giraffes, ostriches, lions and deer figures. We began to hunt for some sort of plaque to see if this was the one we had seen on TV. Sure enough! We found the plaque stating the carousal dated back to 1912. At one time five wooden carousel builders operated in North Tonawanda, NY. The Allan Herschell Company, and its predecessor the Herschell-Spillman Company, was the most notable of them and operated from 1883 to 1955. The company produced wood carousels into the 1930s. This beautiful carousal is one of nine remaining Herschell-Spillman park-style menagerie carousels in the U.S. It is now over 100 years old and is still bringing smiles to the faces of kids and us.