We are loving it here in Buenos Aries!
Springtime in Buenos Aries can be a little bit chilly. We are here as the trees are starting to bloom. Seasons are opposite in the northern and southern hemispheres. Sometimes when the wind blows down the street, it can feel darn right nippy. The locals are bundled up like Eskimos. As we aimlessly roam the streets taking in the sights of this beautify city we travel Mark and Cindy style: We walk until our feet hurt then drink wine until they don't.
Our first surprise about Buenos Aries is the size of the city. The metro area is home to 15.5 million people, larger than London or Los Angeles. The second surprise is the cleanliness. The streets are clean and the city lacks graffiti. There is graffiti but not as abundant as other cities we have visited during our travels. The third surprise is the politeness of the people. The last surprise is awesome food, particularly beef.
Texas and Argentina are the two places in this world to get an awesome steak. By awesome steak, I mean, oh my god, pounding on the table, lip-smacking audaciously delicious. Yep, that good! Nobody cooks beef as well as Texans but Argentineans are darn close. We both love a good steak. The fact Cindy is from Texas has no bias here. We have both traveled extensively and in my previous career life, I had the opportunity to eat as some of the best steakhouses in the USA. I once read an article in the USA Today Travel section about the top ten best steak houses in the USA. I was fortunate enough to have dined at seven of the ten. None of them, and I mean none of them, come close to the steaks we have eaten in Argentina.
For Cindy's birthday, we made a reservation at Don Julio's. This steakhouse is ranked as one of the top restaurants in Buenos Aries and in the top 50 of restaurants worldwide. With almost ten thousand reviews on TripAdvisor, this phenomenal restaurant has maintained a 4.5-star rating. We had to make the reservation well in advance as the table's book out about 2 months. If you wish to chance it without a reservation, they will feed you free bread and prosecco outside as you wait in the line. Luckily we had the foresight to reserve a table. It was raining on Cindy's birthday. As we were immediately seated we received some envious glances.
Cindy's comment, "This is by far the tenderest piece of meat I've ever eaten. It seriously just melts." She ordered a fillet cut. It was huge. I ordered a bone-in ribeye. In Texas, this is called the cowboy cut. I am not kidding when I say this; it didn't quite fit on the plate. We peaked into the kitchen area and saw steaks grilling over a charcoal grill. Yes, a real charcoal cooker. Yep! I am one hundred percent convinced, Texas and Argentina are the steak capitols of the world.
Our dessert was homemade ice-cream. When I say homemade, I really mean it. Don Julio's makes it in the kitchen fresh daily. Flavors depend on the available fruit. It is not like in the USA where homemade means the brand of the ice-cream. This is the real thing. If you've never had real homemade ice cream, you haven't lived. We had good friends in Texas who used to make ice cream on their boat on hot days. When ice cream is made, it is usually in big batches and it's hard to keep, especially in a small boat freezer. So, they offered a bowl to whoever happened to be walking down the dock. They were very popular people. After this incredible meal, if I were aboard Cream Puff, I would have unbuttoned my pants, kicked back on the sofa groaning in delight. But alas, I kept my pants buttoned.
An equivalent meal in the USA or Europe on this par with the exceptional service would cost well upward of $300 for two people. In Buenos Aries, eating out is relatively inexpensive due to the exchange rates and low food prices. Meat prices are particularly low. Every restaurant where we've dined we found outstanding value. Our total bill for Don Julio, with a good tip, just under US$100. At this point in our visit, I am thinking about moving to Buenos Aries full-time, selling the Puffster, and renting an apartment next door to Don Julio's.
I mentioned earlier how polite the people are in Argentina. Not since living in England have I see such well-mannered people when boarding trains and buses. At bus stops, the first person waits by the post. The rest of the soon to be passengers line up behind this person forming a line. In the UK this is called a queue or queueing up. When the bus arrives, people wait for disembarking riders first before getting on. Then, they board in an orderly fashion without any pushing or shoving. The same is true in the train stations. On the platform are marks indicating where the train will stop and people form lines at these points. Not once did we witness people getting on while people were still trying to get off. And if you think this is an oddity, imagine our surprise when we witness a young man yield his seat on the train to a lady with a toddler.
One of the great walking tours of Buenos Aries is an extension of the Humor Museum, the comic strip walk. Placed throughout a neighborhood is a series of cartoon statues. The life-size statues are of popular Argentine cartoons. Using a map (an app is also available) and following the 2 km (1.25 miles) trail, we walked the path backward. It begins at the Humor Museum and ends on a very popular market area. The last statue (the beginning for us) is Mafalda. Mafalda is a 6-year girl who has a great concern for the state of humanity and a noted hatred for soup. She often leaves her parents at a loss by asking about mature or complex topics. She is extremely popular here. Just about every gift-shop has Mafalda merchandise.  She is as popular in Argentina as Snoopy is in the USA.
We picked the coldest day of our stay here for this walk. The map turned out to be a backup reference since we quicky notice other groups of people doing the same tour and follow them. Chilly temperatures make it not quite cool enough for a coat but certainly blue-jeans and a sweater. I have to say, since we have spent so much time in the equator area since leaving the hot and sticky Eastern Caribbean, we are really enjoying the brisk temperatures.We love walking about on a 16°C (60°F) day. If the sun is shining, it's perfect!
More cities should do stuff like this for visiting tourists. One summer, we kept Cream Puff in St. Petersburg Florida for hurricane season. The city boasts some of the finest murals we've ever seen. There are tons of them. We wrote a post with some pictures of our favorites. Cindy looked all over the city tourist sites for a walking or walking/bus tour of the murals. Nothing.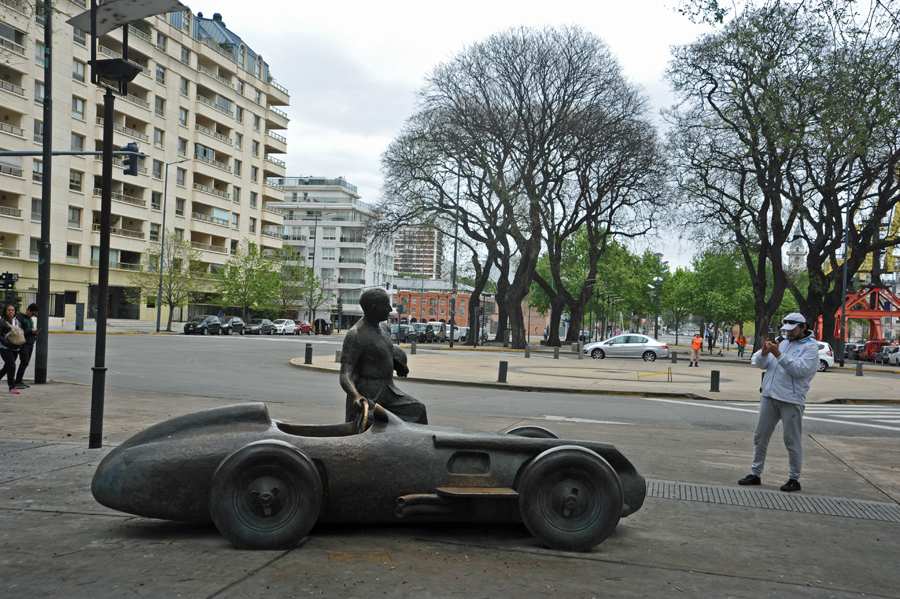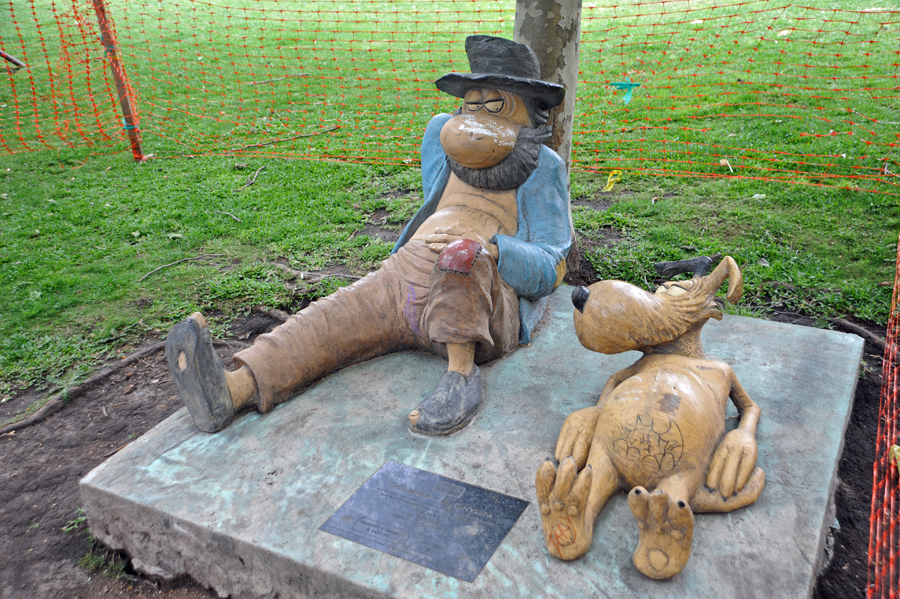 After winding up at the Humor Museum, we decided to go back to the same area but going a different route. We followed the riverfront for a little while and found the in-town marina. I don't think we'll ever sail here on Cream Puff. I don't think I see us sailing around Cape Horn anytime soon.
On the wharf, we see a couple dancing the tango. The tango was invented in Argentina and while here they will not let you forget this tidbit of history. Tango shows are tourist attractions much like Broadway in NYC. The shows can include fancy dinners and be very large scale extravaganzas in very ostentatious theatres. On the street, dancers perform and pass the hat amongst the crowd for tips. For a fee, the dancers will dance with a tourist and let spouses take pictures. I had to laugh at the poor couple below. Firstly, she must have been freezing. Secondly, when they had a third person try to work the crowd and pass the hat, people vanished into thin air. I have never seen people so reluctant to hand over a few coins.
A tango show is a must in Buenos Aries. We opt not to do an overpriced glitzy dinner show. I somehow imagine mediocre food and a Disney like tango extravaganza. This is really not our thing. We opt for a small intimate show in the cellar of a café. Arriving at Café Tortoni (the ultimate tourist trap) by Uber a couple of hours ahead of the show, we take our chances without a reservation. We are both lukewarm on the idea of a show but cave to the tourist brochures. Cindy purchased the tickets as I waited in line for the café. We treated ourselves to savory creamy treats and a drink while waiting for the doors to the theater to open.
Our table is in the front row. Who needs reservations! We share a table with two guys from San Paulo, Brazil. They spoke English! After introducing ourselves we compare notes on things to do and made two new friends. A couple of drinks later, the lights go down and we are treated to a very energetic show. The music is absolutely splendid!
Link: Buenos Aries – Part Three